Faith in America - the speech
Liveblogging the Romney speech, yay.
-- President Bush (the first one) looks good for a ninety year old.
-- I did not realize that the first Governor Romney was a friend of the Bush family. Apparently he worked on the Points of Light thing.
-- Dude, Mitt is going grey. We're turning all our best politicians into old men years before their time, anymore (the crummy ones, who stay corrupt city councilmen, obviously not so much.)
-- Everyone likes everyone at this level of politics. I swear it's like watching a fraternity reunion sometimes.
-- World War II versus the Baby Boomers. Heh.
-- Islam, China, Government Spending, Foreign Oil, and Family Breakdown. I think they must have done polls to determine which five issues to talk about all the time: the message control is tighter than ever this year.
-- Woot! Quoting John Adams, yay!
-- Dude. Has it really been almost 50 years since Kennedy's speech?
-- I just realized that journalists must have had this speech at least an hour ahead of time. The captions are perfect.
-- I love this: "A President must serve only the common cause of the people of the United States." Apparently the audience does, too.
-- "Some people believe that such a confession will sink my candidacy."
-- "These are not bases for criticism, but a test of our tolerance."
-- "No candidate should become the spokesman for his faith" is now the MSNBC headline (a second ago it was "I believe in my Mormon faith and endeavor to live by it.")
-- A President Romney would be much more pleasant to listen to than President Bush has been. We should have more public speaking classes in this country.
-- Apparently Romney feels okay with losing the atheist vote.
-- Not to mention the ACLU endorsement.
-- "But I will not separate us from the God who gave us Liberty." Dude, it's like they're channeling the Enlightenment. Someone must have been reading a lot of old pamphlets. Especially the Adams party (Madison, Sam Adams, etc.)
-- "We believe every single human being is a child of God."
-- Again with the quoting of John Adams.
-- He's reused Thompson's claim about no other people having sacrificed more lives "for liberty." (it's arguable, though I wish they'd stop saying it.)
-- "America must never falter in holding high the banner of freedom." Doesn't want the non-interventionist vote, either.
-- MSNBC is using the Adams quote "Freedom and religion endure together or perish alone" as their headline, and attributing it to Romney. Heh.
-- He just referenced Anne Hutchinson! And Roger Williams! And Brigham Young! In one paragraph! It's actually... totally appropriate, given the banishment/journey for religious freedom thing.
-- "Not as a matter of policy, but as a matter of right." Thank you.
-- Ooh, a hit on European secularism. And established religion.
-- And hating on jihad-as-violent-conversion. Good. Makes me think he might actually know the difference (it's not always clear with some of the candidates) between that and the word jihad, which means lots of things.
-- "We do not insist on a single strain of religion."
-- I am SO sure they pulled out the 1765-1800 Adams archives for this. I suppose it's to be expected, the man was governor of Massachusetts, after all.
-- "Any believer in religious freedom has a friend and ally in me."
-- There should be a moratorium on standing ovations. They make crummy television and are an invitation for candidates to make themselves look stupid.
-- Related: I am SO glad Romney doesn't grin like an idiot when he's pleased with something (cf. Les Miles.)
MSNBC mostly likes it.
Labels: mormon, politics, Presidential race, religion, romney
. |
0 comments
|
2008 Primary Theme Stuff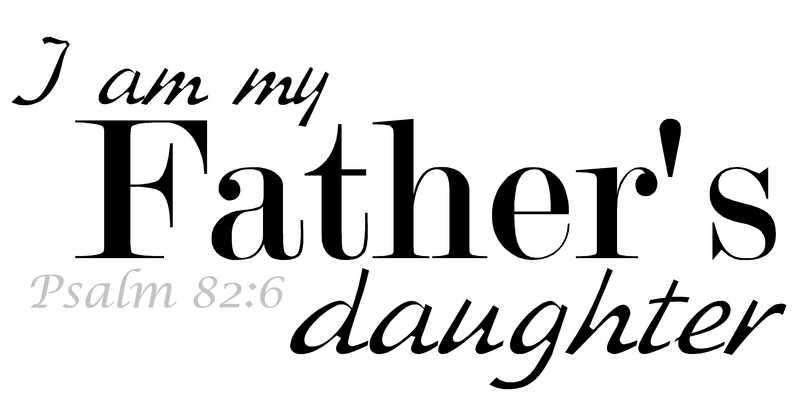 There are a lot of
cute
designs on CafePress that directly relate to the Primary theme for 2008 ("I am a child of God," Pslam 82:6.) Some are even
in Spanish
, which is pretty awesome, if you ask me. Makes me want to make one in Russian.
But there's a shortage of designs for boys. The "Soy un nino del Dios" design I linked to above does come in an English version, but that's about it; I tried creating a version of my "I am my father's daughter" design for boys, but it was just too girly for my tastes, and I didn't really know what a "manly" look would be anyway.
There are
some designs
out there which boys might like (you have to wade through the adoption-related ones, though.) But really, it seems like the "Child of God" idea leans towards girly designs. I wonder why that is?
I'll probably post specific designs later on this week. It will be fun, I swear.
Labels: art, culture, design, LDS, mormon, Primary, religion, teaching
. |
0 comments
|
I really need a job.
Okay, this is just me whining here. Move along if you just don't want to hear it. Because I really need a job.
I need a job in the sense of "I had this babysitting gig last month and they paid me $75 and through intrigue and miserly behavior I managed to stretch it out till today when I had to buy conditioner and now I've got quarters." I need a job in the sense of I designed, like, thirty things on CafePress in a week and a half, and practically jumped out of my seat and sang when my commission total rose above $25 (I should get a check in February.) I need a job in the sense of
I am now so depressed that looking at my long list of company HR sites to visit makes me want to convert to Catholicism and become the kind of nun who lives in a cloister and makes bead crafts
.
I've sent resumes and brilliant, agonizingly enthusiastic,
I spent half an hour re-reading this to make sure it didn't sound desperate
cover letters out by the dozen, and other than two OSU administrators who (likely as not) remember me from my time as a student, I haven't had any response at all. Oh, I forgot the auto
you stink
email from McGraw-Hill, which came about thirty hours after I hit "submit." I was grateful for that message, by the way. There are jobs which OSU's HR site thinks I'm still up for, which have been in "Application Referred" status since August. The only job I've been offered was an 8-day mail room spot from a temp agency, and I had to turn it down because they required Sunday work. I have the HR websites for the top 40 Columbus employers (yes, Daddy, including all the governments -- even Southwestern City Schools is on there,) as well as Craigslist, CareerBuilder, Monster and Jobster on my daily rounds. I email resumes for legal assistant and student adviser and administrative lackey and pretty much everything else, except for call centers and food service (and those are excluded only because I know I won't last long.)
I've started looking at Lansing jobs. I'm considering Salt Lake City. I'm fasting and praying for a job this weekend, and pretending that my self-centered attitude doesn't make me feel guilty. I can't make myself fall asleep at night anymore, and I'm about an inch away from deleting my resume and moving into a cardboard box on High Street out of sheer frustration. Glargh.
I really, really, really need a job.
Labels: bleh, despair, desperation, future, working
. |
1 comments
|